Energy policy choices in Spain over the last decade have resulted in an increase in costs of the electricity system, generating a tariff deficit that has been, to a large extent, passed on to electricity consumers.
Amongst other measures to reduce the tariff deficit, Spanish government has imposed since 2010 a 7% generation tax on the value of electricity output and retroactive decreases in remuneration for renewables, until it was definitely suspended in 2013.
Tariff deficit was over in 2014. In Spain, hardly any new renewable power was installed between 2013 and 2016 (+0.07% of wind power and +0.3% of photovoltaic solar).
In order to achieve the objectives set by the European Union in 2020, the government of Spain held three energy auctions (January 2016, May and July 2017) in which a total of 8,737 MW were awarded (4,628 MW, 3,909 MW Solar MW and 200 MW of biomass).
ATALAYA GENERACION has identified 238 MW of wind power and 92 MW of solar power in the auction of may 2017.
Our projects contribute to make Aragón the region with the largest number of projects identified in Spain, holding the consideration of regional interest investments, enabling streamlining administrative processing deadlines of the Regional Government.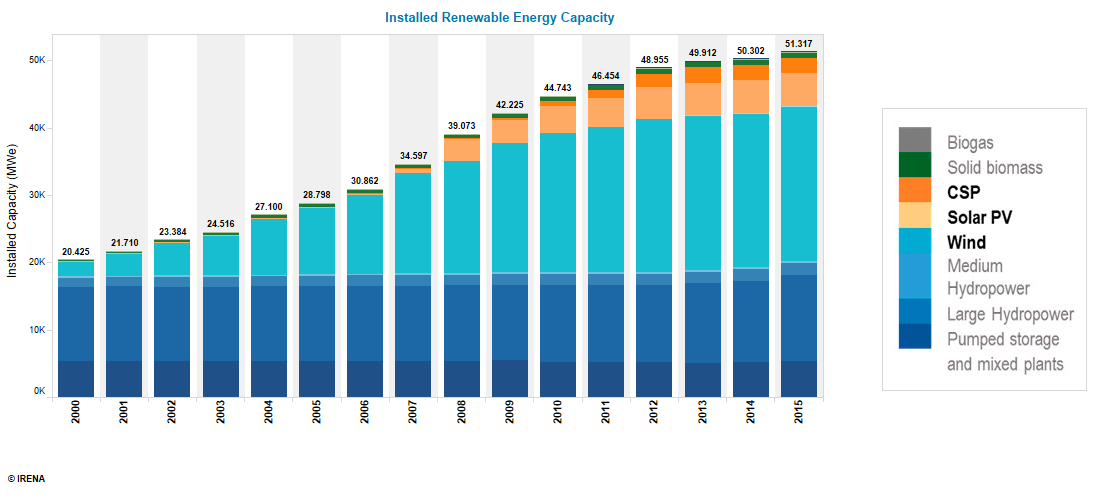 Source: www.irena.org